Welcome to The Promised Neverland Wiki, a mediawiki-based encyclopedia dedicated to everything about Posuka Demizu and Kaiu Shirai's collaborated masterpiece manga The Promised Neverland. We are striving to be the most known encyclopedia that covers information about The Promise Neverland franchise. We are trying to become a more informative encyclopedia to support fans globally.
We are more than happy that you can join us with reaching our main goal. You can start by creating an account and help out instantly. Please help us by creating or editing any of our articles!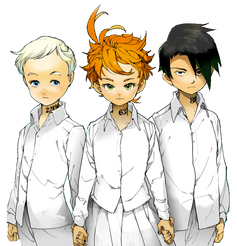 Norman, Emma, and Ray are the brightest kids at the Grace Field House orphanage. And under the care of the woman they refer to as "Mama," all the kids have enjoyed a comfortable life. Good food, clean clothes and the perfect environment to learn- what more could an orphan ask for? One day, though, Emma and Norman uncover the dark and twisted truth of the outside world they are forbidden from seeing. Soon, they must make haste to plan their escape!
January's Featured Article
Ray

---

Blurred out text contains Manga spoilers. Read at your own risk! Ray is one of the protagonists of The Promised Neverland series next to Emma and Norman. Initially, Ray appeared as an aloof and introverted individual who was often seen having his head buried in a book instead of socializing with the other orphans in Grace Field House. Nevertheless, Ray is able to interact well with the orphans and is fiercely loyal and caring of them, most noticeably Emma and Norman.

Being one of the smartest children living in Grace Field, Ray is the only orphan whose intelligence can match with Norman's.


After his success of escaping Grace Field alongside Emma and 13 other orphans, Ray now seeks to find William Minerva, whom he believes can grant him and his friends liberty and to live a safe and peaceful life away from the demons.
The latest manga chapter synopsis for The Promised Neverland can be found here.

Inaccurate info and spoilers abound: browse at your discretion. Editors, please provide sources for contentious or spoiler info.

RSS Feed

Loading RSS data...
Help Out
Questions? Feel free to ask on our local Help Desk
---
To create a new article, simply enter the article title in the box below:

Please check our policies before you get started. These are guides for your contributions.

Trouble getting started?
If you are new to wikis, check Help:Getting Started
Don't be afraid to just jump in and start it! Others can edit and improve whatever you make.
Check out the community portal to see what the community is working on, to give feedback or just to say hi.
Help the wiki by editing article stubs and creating wanted pages.

Please visit our local Affiliation page to understand the guidelines and rules before you want to affiliate with us.
Currently, which of the following is your favorite Arc?
We are now affiliated with ReadNeverland.com! Be sure to keep up on their updates and the series' weekly chapter releases~