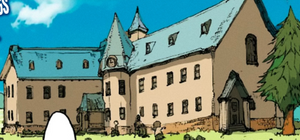 The Grace Field House also known as Plant 3 is the place where most of the story takes place and where all the children live.
It is made up of many bedrooms for the children, a dining room, play room, kitchen and closet rooms. All windows have latticed covers to prevent the children escaping.
Outside of the building has trees and open areas. The whole orphanage is also surrounded by a wall. It is suggested by Norman that there might be security surrounding the enclosure.
Ad blocker interference detected!
Wikia is a free-to-use site that makes money from advertising. We have a modified experience for viewers using ad blockers

Wikia is not accessible if you've made further modifications. Remove the custom ad blocker rule(s) and the page will load as expected.